Brady's Organic Black Barley
Deliciously nutty and heart healthy. Enjoy the whole-grain goodness of our certified organic black barley! This chewy, nutty treat goes from field to table with absolutely no processing.
Flavor profile and description
A delicious nut or rice substitute with a full, rich flavor. With hulless black barley, no bran or germ is removed. We leave the complete edible kernel intact for the full nutritional benefits.
Preparation
Boil and eat as is, or add cream and honey for a nutritious breakfast. The great nutty flavor and chewy texture make a great addition to soups, salads, stuffing and pilaf. It's an excellent alternative to rice, or combined with rice and other grains for added texture and color.
The story
This botanical heirloom is a part of living history. It is our way of supporting centuries-old plant varieties and preserving the genetic diversity of our food supply. Passed down through generations and nearly lost to the western world, this organic barley is considered an Ancient Grain.
Nutritional benefits
Black barley gets its deep purple pigment from its high antioxidant level of anthocyanin. While also found in red cabbage and beets, this antioxidant is said to be more stable in grains than in vegetables. Black barley is also high in gluten-soluble fiber. This helps to lower cholesterol and reduce glycemic levels, thus lowering the risk of heart disease and diabetes.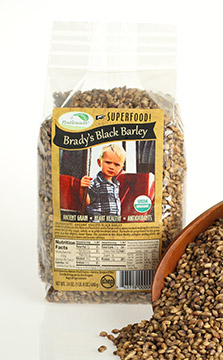 Packaging options
1 lb. bag
Product availability
Brady's Organic Black Barley is available throughout the year.